Deepak_Shah
Entry Level Member


17 Posts



Posted - 08 May 2007 : 12:29:26
---
Jai Shree Krisna. I have heard a lot about Marjaadi Seva in Pushtimarg. But I am not sure who is Marjadi and how come their seva is different from what another Vaishnav will do. Also how can one become Marjaadi? Is it a mere act of declaring oneself as Marjaadi or he needs to take Agna from Guruji. What is the typical day of Marjaadi?
gopal
Pushtikul Elite Member - August 2003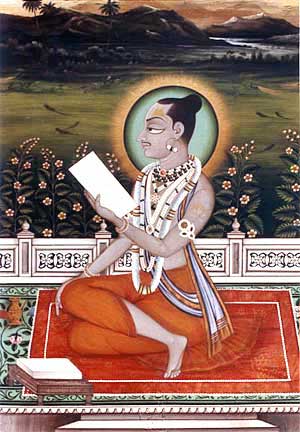 1221 Posts

Posted - 08 May 2007 : 14:43:46
---
Jai Jai ShriGokulesh
ShriMahaprabhuji Had only given aagyna of doing seva with Sarva Samarpan with Tanu-Vittaja. Means with own Tan and own dhan. and offering all our beings. When a jeev involves Himself/Herself in the seva, and forgets all the Other deeds of laukik life, and just the Stage of getting Nirodh, or Vyasan Avastha, and Ultimately to Manasi Stage. To my best Understanding the Jeevs who Live for ShriPrabhu r the Marjadis-Tadrushis--Bhagwadiyas.
Jai Jai ShriGokulesh Parivaar, Baroda

shreekant22
PRO - Pushtikul.com / P.E.M. January 2004








1853 Posts



Posted - 09 May 2007 : 16:47:54
---
Jai Shree Krishna

In previous times, during the era of Shree Mahaprabhuji, Shree Gusainji etc, Social ambience was very different from what it is today. A follower of the hindu sanatan dharma, used to follow certain basic traits, like having bath before entering into the kitchen, bathing after relieving himself, entering the home from the rear gate after going to the smashan, etc. - During such times, there was no marjad, as the very lifestyle was such that there was no need to adopt marjaad.

However the changing socio-cultural scenario has led to a totally different society that we live in today, and it is parctically not possible to adhere to many of these practices and some of them even seem redundant today. This chang-in scenario raised to question of performance of Seva of Shree Thakorji. And hence came in the marjadi seva. Essentially the Marjaadi seva ensures adherence to proper apras, as per the initial norms, preparing of Samagri in apras etc. And the Marjaadi Vaishnavs strictly adhere to the principles of the Marg, maintaining proper sanctity, not only when in apras, but even otherwise.

The Word MARJAAD initself is derived from Vrajbhasha, and it simple means one who remains with in limitations, or one who is worthy of respect.



Shree Vallabha dheesh ki jai