Posted - 25 March 2007 : 15:06:55
---
Introduction :-
Lohagadh is now called as Kokan Goa. At Goa, under a tree of Chokar, there is this Ramaniya Baithakji.
Text Below given is taken from www.yamna.co.uk (An excellent website on Pushtimarg, developed on the lines of Pushtikul.com) :-
Lohagadh (Goa) Baithak Mahatmiya:
During Shree Mahaprabhuji pritvi (bhumi) parikrama time. Aap went to lohagadh side. And when there Shree Mahaprabhuji, when doing Shree Maad Bhagwat paath, the only jeev to listen was all forest animals, and the kripa of Shree Mahaprabhuji was soo much on everyone that when Shree Bagwat was over the pashu pakshi and the animals gave their deah (soul) in HIS charnavind. This The first one to give their soul was Eharawat (Elephant). And if you look close the outer side of this Charnavid, you will notic the elephant chin and inside is Shree Mahaprabhuji Charnavind. And Aap gave darshan of the Charnavind with alokik kripa. (This description was kindly sent by PPG 108 Shri Sharad Bawashri)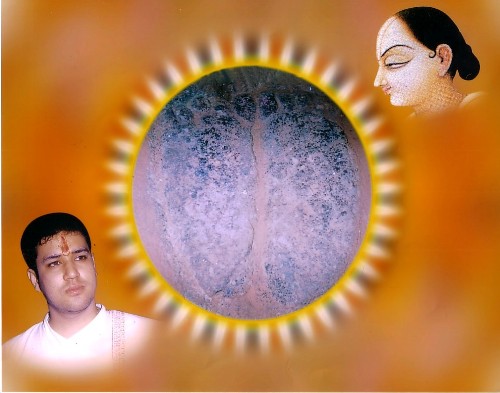 Contact Information :-
Shri Mahaprabhuji's Bathakji (Gujrati Temple)
Besides Rudreshwar Temple,
At post - Harvalem-Sankhali (Sanquelim) Goa,
Dist. Panaji
Goa
India
Pincode :- 403505
Tel Nos. (Indian Callers) - 0832-2364856
Tel Nos. (International Callers) - (00) + 91-832-236 4856
Nearby Places :- Panjim, Goa.